AHA Living Learning Network (LLN)
A peer-to-peer community of health care professionals dedicated to helping hospitals and health systems recover, rebuild and reimagine health care.
Why participate?
A partnership between the AHA and CDC, the LLN is a virtual community of more than 400 members focused on transforming health care by sharing knowledge and concerns, expanding perspectives and problem-solving together.
Examine issues and opportunities
Share stories and experiences
Identify needs
Co-create tools and resources
Strengthen skills
Push each other to become better
Join
LookBook:
Responding with Resilience and Service to Community
A new publication from the AHA's Living Learning Network (LLN), "The Pandemic: Responding with Resilience and Service to Community," highlights images of and commentary from health care professionals on their experiences during the past two-plus years.
View LookBook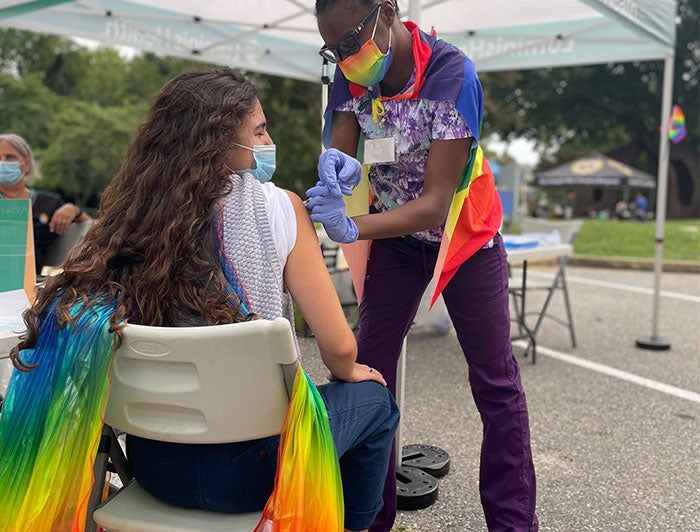 LLN Continues to Connect Peers, Grow Membership
Now accepting applications!
Now in its second year, the AHA Living Learning Network (LLN) connects health care professionals in real time to the immediate needs and successful strategies of their peers through vibrant, peer-to peer sharing platforms such as message boards, email groups, video conferences and learning sessions
Apply
Resources
Check out these resources from the AHA's LLN, from podcasts to blogs to webinars.
Funded Partnerships Highlight Reel
LLN Map of Participating Members
Explore the Map
The LLN set out to engage health care professionals from across the country to authentically represent health care consumers from all walks of life. The only way to emerge from this pandemic stronger is through a national dialogue with diverse representation, transparency and accountability.
Source: Based on 2022 LLN Community Members.
"In health care today, we need to be more flexible and responsive to sudden change and more open to the support and guidance of others. The AHA Living Learning Network gives me the opportunity to reach out to my colleagues from across the field quickly and easily to better understand and manage a situation by looking at it from different experiences and perspectives. It opens our minds to new possibilities and it helps us build trust."

Chief Nursing Officer/Chief Operating Officer, Providence Sacred Heart Medical Center and Children's Hospital (Spokane, WA)
"The only way we can tackle COVID-19 is if we do it together. Since the onset of the virus, we've seen developments in health care that were once hard to imagine such as the rapid adoption of virtual health and its impact on the provider-patient relationship. The AHA Living Learning Network pulls together hospital and health system leaders and experts with unique, cross-functional perspectives to discuss and address rapidly changing, complex problems that have long-term implications. The diversity of experience allows this group to see risks and opportunities from different angles so that it can generate new solutions and adapt dynamically to changing situations."
Vice President, Strategy and Innovation, White Plains Hospital (White Plains, NY)
"COVID-19 continues to demand partnership and innovation in health care. The Living Learning Network is designed to both accelerate and enhance collaboration and knowledge sharing – key factors in establishing widespread adoption of the most effective evidence-based clinical practices."
Vice President, Clinical Quality, American Hospital Association (Chicago, IL)
Join these LLN Members in Conversation
Want to learn more about the Living Learning Network and become a member? Contact PI.Team@aha.org.